Non-Structural Sheathing & Insulation Boards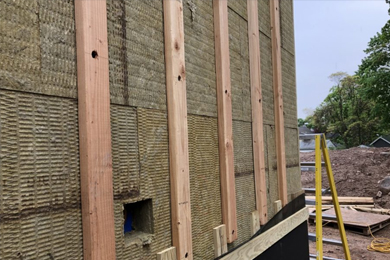 Thermo Sheath TPLY (Green)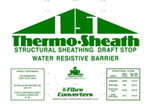 Thermo-Sheath Non-Structural Sheathing (Green) can be used as air barrier, moisture barrier or draft stop. This is a proprietary wall sheathing consisting on a proprietary fibrous sheathing board laminated with a water resistant adhesive to facers on side or both sides. Available in 4'x8' thermo-sheath or 4'x9' thermo-sheath.
DOW Thermax Int./Ext. Reflective Insulation Board

Dow THERMAX™ Sheathing is specially designed to have a Class A fire rating and can be used in a range of concealed and exposed applications, above and below grade. Because of the improved fire performance it is best suited for hourly rated assemblies. It has nominal 1.0 mil, smooth aluminum foil facers on both sides. Available in ¾"x 4'x 8' (R-5), 1"x 4'x 8' (R-6.5) and 1.5"x 4'x 8' (R-9.8)
DOW StyroFoam XPS Insulation Board
Dow StyroFoam Insulation is an extruded polystyrene foam board with plastic film facers on both sides. Contains an average of 20% pre-consumer recycled content certified by UL Environment Inc. Provides a level, even surface for exterior sheathing and new siding material. Helps enhance energy efficiency and reduce condensation. Available in 1' x 4" x 8' (R-5), 0.55 x 4' x 8' (R-3).