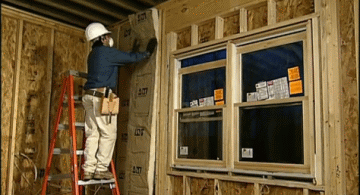 Johns Manville Insulation
– Formaldehyde-free Insulation Products
Johns Manville products offer a complete line of certified formaldehyde-free™ fiberglass building insulation products produced in Winder, Georgia. Johns Manville offers more than just standard FSK-25 Faced/kraft and unfaced batts; they offer innovative solutions with their fiberglass insulation like ComforTherm, standard Foil Faced, spray-in and blow-in methods and more.

Johns Manville's formaldehyde free fiber glass insulation does not contain volatile organic compounds (VOC), and would qualify for LEED 3 IEQ Credit 3.2 for formaldehyde-free concentrations; and would also contribute to LEED 3 IEQ Credit 4.6 for schools. Whether you're building a new structure or retrofitting an existing one, each of the insulation products is tested and proven to provide superior performance and energy efficiency for the life of a home.